Food Loss & Waste International Workshop
The day after: Food waste prevention after the pandemic 20 January 2021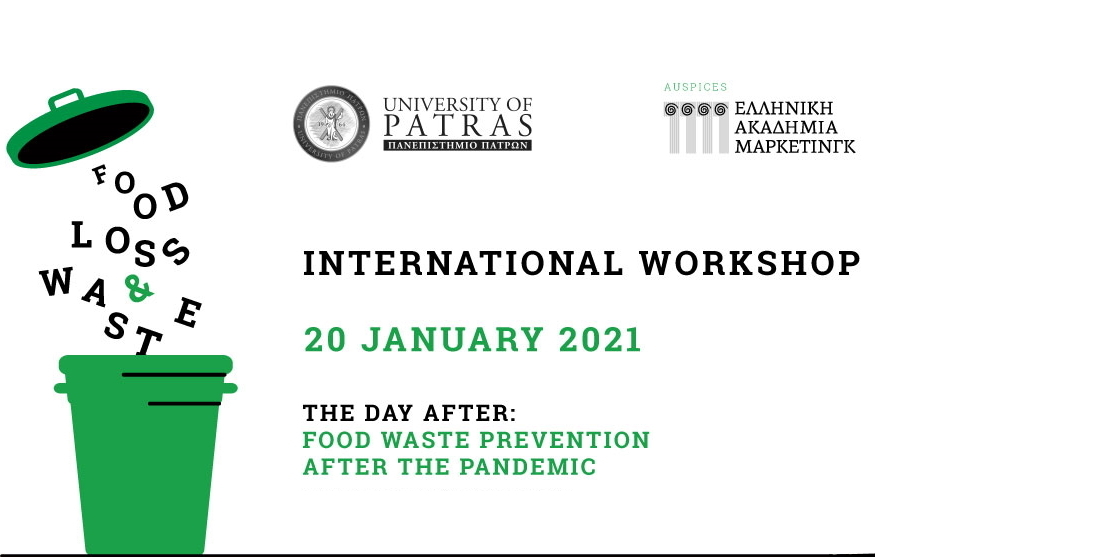 FOOD
LOSS & WASTE
Food waste refers to the decrease in the quantity or quality of food resulting from decisions and actions by retailers, food service providers and consumers (SOFA, 2019).  Food loss and food waste (FLW) occurs at all stages of the food supply chain (FSC): in agricultural production, after harvest and storage, processing, distribution and consumption. According to research results the largest proportion of food waste in developed countries takes place in the level of distribution (retailers) and final consumption (caterers, restaurants, households). The International Food and Agriculture Organization (2011) reported that worldwide one third (1/3) of the food which is produced for human consumption is lost and wasted, amounting to 1.2 billion tons annually. 
On 29th of September 2020 was the first ever International Day of Awareness of Food Loss and Waste. At the same time, the COVID-19 pandemic created new problems but also opportunities as raising the awareness on the need to transform and rebalance the way our food is produced, distributed and consumed.
The International Workshop is organized under the auspices of the Greek Marketing Academy. It is focuses on the food waste phenomenon and provides information regarding food waste prevention, good practices and success stories.
Academics and practitioners, from different countries and scientific backgrounds, will present and discuss research results, approaches and methods for the reduction of food loss and waste.
The international workshop is organized by the Agri-Food Business Management Lab of the Department of Business Administration of Food and Agricultural Enterprises of the University of Patras. Prokopis Theodoridis, Associate Professor of Marketing will be the host of the workshop. The coordinator of the workshop is Theofanis Zacharatos.
The attendance of the workshop will be free (without any fee) and participants will receive an "Attendance Certificate".
Registration (free attendance): https://upatras-gr.zoom.us/webinar/register/WN_6odZis49QjOCpB_ikYdH4A
Details
Host: Laboratory of Agri-Food Business Management
Scientific Director: Prokopis Theodoridis, Associate Professor of Marketing, Director of the Agri-Food Business Management Lab, University of Patras, (proth@upatras.gr)
Coordinator: Theofanis Zacharatos, Ph.D. Candidate, member of the Lab, University of Patras(theof.zacharatos@upatras.gr)
Date: Wednesday, 20th of January 2021
Opening: 17:00 Eastern European Time (EET)
1st Session [17:00 – 18:30 Eastern European Time (EET)]
Speakers – Participants
Ludovica Principato, Researcher of Marketing and Sustainability, Roma Tre University  Department of Business Administration, Rome, Italy
Luca Secondi, Associate Professor of Economic Statistics, University of Tuscia - Department for Innovation in Biological, Agro-Food and Forest Systems (DIBAF), Viterbo, Italy
Dimitris Spiridis, Food & Beverages InStore Manager ΙΚΕΑ Greece, Cyprus & Bulgaria
Alexander Theodoridis, Co- Founder & CEO BOROUME, Greece
Prokopis Theodoridis, Associate Professor, Department of Business Administration of Food and Agricultural Enterprises, University of Patras, Greece
Theofanis Zacharatos, Ph.D. Candidate, member of the Lab, Department of Business Administration of Food and Agricultural Enterprises, University of Patras, Greece
2nd Session [18:45 – 20:15 Eastern European Time (EET)]
Speakers – Participants
Natasa Christofi, Marketing Manager IKEA, Greece
Clara Cicatiello, Coordinator of H2020 LOWINFOOD project, Assistant Professor of Agricultural Economics, University of Tuscia - Department for Innovation in Biological, Agro-Food and Forest Systems (DIBAF), Viterbo, Italy
Alexia Macheras, Sustainable Retail & Corporate Communication Manager, AΒ Vassilopoulos, Greece
Christian Reynolds, Senior Lecturer, Centre for Food Policy, University of London, UK
Andres Silva, Assistant Professor, School of Business and Economics, Universidad Central de Chile, Chile